Guest Accommodations
Big Cedar Lodge
190 Top of the Rock Road, Ridgedale, MO 65739, USA
1-866-597-0995

We have set aside a block of Valley View Double Queen Lodge Rooms at a rate of $165/night+ $25 resort fee for Saturday and Sunday. Please call Samantha Chitwood in the reservations department directly at 1(866) 597-0995 you can reference room block code: 61T4B9 Castrejana/Rabe Wedding to reserve a room.
Additional nights and accommodations such as cabins and cottages can be reserved at an alternative higher rate but are based on availability. A full list of available room types can be found on the Big Cedar website.
If you have any issues rebooking your room please call or text Judy Castrejana at 210-394-7738.
Big Cedar Lodge offers fishing, kayaking, hiking, golfing, an activity center for kids and many more things. Check out the Big Cedar Website for all there is to do. We hope that you are able to come and enjoy the property for our wedding and possibly a few more days. As this is spring break please consider booking your rooms as soon as possible. Hotel accommodations at Big Cedar Lodge will likely sell out entirely well before the wedding date.
Big Cedar Lodge Website: https://bigcedar.com/?utm_sour...
If you do not wish to stay at Big Cedar Lodge you may consider staying at the below locations in Ridgedale, Mo and Branson, Mo. (approximately a 20 min drive). Transportation will not be provided.
Hilton Branson Convention Center
Travel and Transportation
Branson Airport
4000 Branson Airport Blvd, Hollister, MO 65672, USA

10 miles from Ridgedale, MO
Springfield-Branson National Airport
2300 N Airport Blvd, Springfield, MO 65802, USA

60 miles from Ridgedale, MO
Tulsa International Airport
7777 E Apache St, Tulsa, OK 74115, USA

187 miles from Ridgedale, MO (3 hours)
Things to Do
Big Cedar Lodge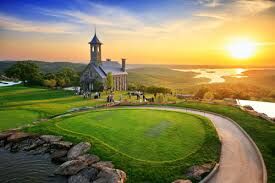 190 Top of the Rock Road, Ridgedale, MO 65739, USA

Please visit the Big Cedar website to see a list of activities.